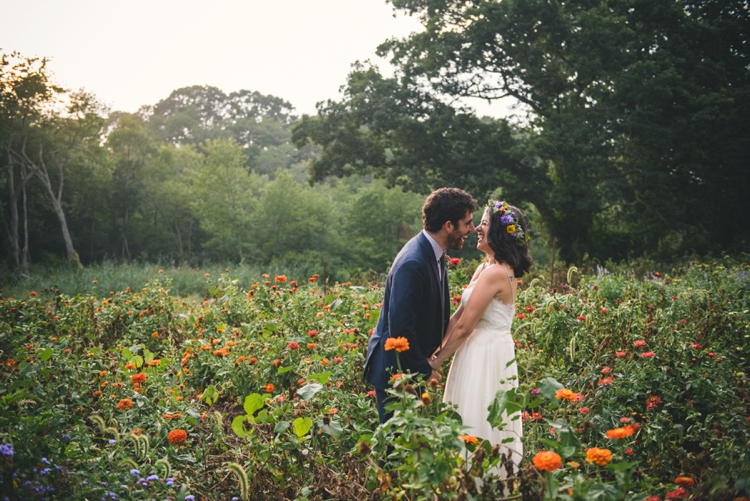 Emma + Ben got married on one of the hottest days in September at Barberry Hill Farm in Madison. Their wedding was epic and if you know me I never use that word since it's so overplayed, but it truly was epic! It was quirky, having a "magic yourself" station at the ceremony and small, plastic toy dinosaurs hidden along the walking path, (I mean, not every bride and groom have a mutual love of dinosaurs and incorporate said love into their wedding). It was rustic, with chickens running around the working organic farm, and, it was beyond thoughtful, with every detail, blessing and toast having intentional meaning behind it that either made you well with tears from the sentiment or brought you to laughter from the joy. 
In what my words lack I hope my images make up for, but I am also pleased to share Emma + Ben's words below, which I believe will also help bring their images to life:
When Emma and Ben decided they wanted to get married, they agreed on a few things first: they wanted Emma to walk down the aisle to the theme of "Jurassic Park", they wanted to have pie for dessert instead of cake, and they wanted to make sure their guests had a good time. Those agreements led the couple through their planning process which was at times fun, at times confusing, and at times exhausting, but it all paid off in the end. Emma tied 400 streamers to line the outside of our tent, Ben tried 400 songs before he found just the right one to walk down the aisle to, and then everything was ready to go! (This makes it sound like we both did the same amount of work planning the wedding, when actually Ben did very little and Emma did very much, but since, I, Ben, wrote this post so I get to decide how things sound. Haha!)  
Things could not have gone smoother the day of.  The weather was cool and clear, the farm looked great, and the chickens crowed at just the right moments. Emma's friend read a letter written by her late sister on the day of Emma's birth, Ben's brother wrote and performed a song for the couple, and Emma's father sang a song that Emma had requested he sing at her wedding when she was 12 years old.  There was not a dry eye in the house, except for Ben's because he doesn't ever cry, but he felt very emotional on the inside.
Guests enjoyed the ceremony for its romance and humor, they enjoyed the cocktail hour and meal for their deliciousness and impeccable timing, and they enjoyed the party for its fun, sounds, and laid back feel. Multiple guests reported that it was the most fun they'd ever had at a wedding (besides their own) and 

we

 felt the same way.
We especially want to thank Athena for helping us document the fun and romance of our most important day ever, and for moving so seamlessly through the festivities that she felt like one of the guests.  We are writing this blurb not having seen our pictures yet, but confident that Athena's skill and talented eye will have caught much of the real and true magic of our day.  Enjoy! 
Thank you, Emma + Ben for contributing your words to what might be my longest post ever and thank YOU for having me document your day. Not only was I honored to be a part of it, I was also greatly moved.
As I said, it's a lengthy post, so grab yo'self a glass of wine or cup of coffee and enjoy! xo