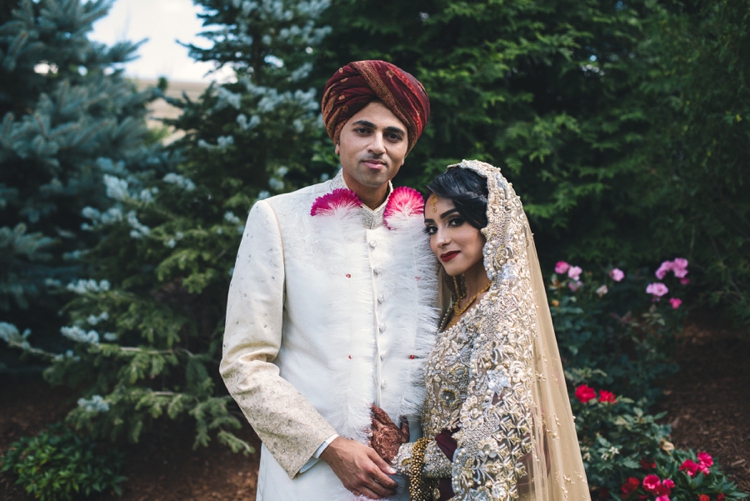 Day 2 of Hania + Zahan's Pakistani wedding: The Shaadi, also known as, the wedding.
In Pakistani weddings the groom, Zahan, stays with his family about a week before the wedding (remember the day before, the Mehndi, was just for the bride). For the Shaadi, there are no rehearsals or hotel reservations close to the venue the night before. Instead, the groom travels from his home, and in Zahan's case, that was Rhode Island, with his family in a grand procession to the ceremony. Usually music is played as they make their entrance together with the bride's family waiting to welcome them by showering them with rose petals. Zahan then moves to a stage eagerly anticipating Hania's entrance where she is escorted by her dearest uncle and father to be presented to him. Standing and then eventually sitting, Hania and Zahan are greeted and congratulated by their guests before proceeding with customary traditions.
Toasts were given by family and friends, they cut the cake and there was a playful custom where Hania's sister and cousins stole Zahan's shoes for a ransom, which is negotiated back and forth with the groom's family. In between these traditions family and friends took various arrangements of group photos with Hania and Zahan on the stage and they were also able to sneak away for some portraits with me.
Finally, the day ends in a collective send off. Their family escorts them out while the Quran is held over Hania's head, a representation of God being with them, as they leave as husband and wife. Hania prepared me that this is usually an emotional affair, and it was, as Hania's family lovingly gives her away to Zahan as they now embark on life as a married couple. 
I was incredibly honored to be a part their day, their culture and document their beautiful wedding, the Shaadi.